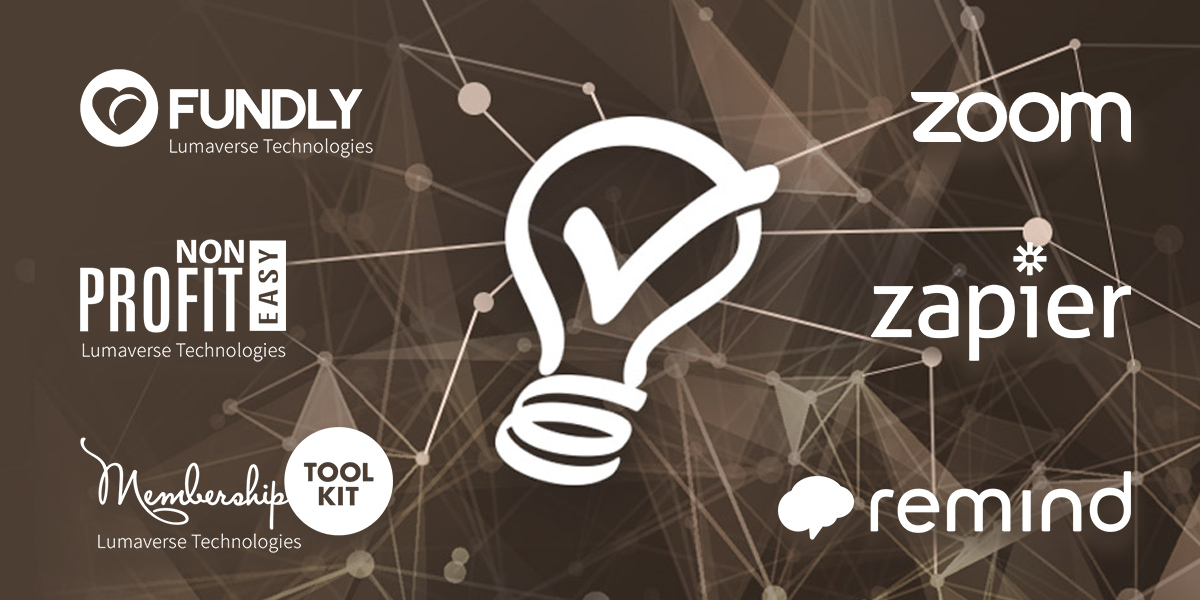 SignUpGenius is your go-to solution for coordinating events and volunteers, but did you know you can access even more organizing power with our software integrations? Whether you want to plan a virtual meeting or connect with a school app, you can sync your sign ups with popular digital tools in just a few steps.
Learn about how our integrations can help simplify organizing and communication with your group so you can minimize the busy work and focus on what matters most.
NonProfitEasy: Integrate with a powerful CRM
A CRM captures valuable relationship-building data for your nonprofit, giving you more power to grow your support. SignUpGenius is integrated with
NonProfitEasy
, a CRM solution created for schools and nonprofits.
This integration
easily allows customers to sync sign ups with their NonProfitEasy CRM database, allowing them insight into each interaction with donors, volunteers and the community.
Benefits of a NonProfitEasy integration include:
Keeping your participant data consistent between your CRM and your sign ups.
Tracking volunteer activity in your CRM when a participant signs up. If the slot or participant information is updated in the sign up, it will also be reflected in the CRM.
Accessing advanced reporting features within NonProfitEasy that allow you to run custom reports to gather data on donations, events, membership and more.
With your sign ups and NonProfitEasy working together, you have a genius way to engage donors, manage events and boost fundraising.
Membership Toolkit: power your group with all-in-one software
Membership Toolkit
provides an all-in-one software solution to empower smaller organizations with big missions. The tool is ideal to streamline group organizing for PTOs, booster clubs, HOAs, social organizations, scouts and small nonprofits. From accounting to volunteer management to communication and message boards, the tool provides an array of tools or features that are necessary for managing clubs and organizations like yours.
Membership Toolkit simplifies tasks such as:
Creating and sending newsletters and emails
Managing your budget and paying vendors
Creating custom mobile-friendly web sites
Facilitating open communication with message boards
Building a secure online directory that offers contacts full privacy control of how they share their information
With our
Membership Toolkit integration
, your group can easily sign up to volunteer, make a donation and stay up to date on the latest news. Your team members can save time by having everything they need to manage your organization in one place.
Crowdfunding with Fundly
Want to bring people together to support an important cause? With our
Fundly integration
, you can
organize a crowdfunding campaign
that syncs with your sign up. Invite your audience to sign up for your event and join a shared fundraising effort in just a few clicks.
People use Fundly to:
Host a fundraising campaign for a school or PTO/PTA.
Receive donations to support disaster relief efforts.
Coordinate meal donations for those in need.
Collect money to benefit a nonprofit or community effort
The Fundly integration makes giving easy for donors and offers real-time updates to show progress towards your crowdfunding goal.
Sync video conferences with Zoom
Zoom became a part of our daily lives almost overnight, and it's here to stay. Our
Zoom integration
makes it easy to invite your group to a virtual meeting or event on your sign up. Your participants can click the link in the location field on the sign up as well as in reminder and confirmation emails to join your call. With this integration, your sign up and Zoom link are all in one place.
From family get-togethers to client meetings, you can easily organize and facilitate virtual events with your sign up.
Remind: simplify school communication
Remind
is a popular app that connects families and schools with two-way text-based communication. The tool helps guardians stay up to date on school news and events while giving students a convenient way to reach their teachers.
With our Remind integration, you can easily access and share your sign ups within the Remind app.
This integration is ideal for:
Teachers sending out parent conference sign ups and class wish lists.
PTA leaders requesting volunteers and donations for fundraising events.
Arts teachers sending out audition sign ups for theater and music.
With the combined power of Remind's mobile messaging and SignUpGenius's online sign ups, this integration is just smart!
Sync your sign ups with your calendar
Keep your events top of mind by integrating your sign ups with your personal calendar. With our
Calendar Sync
feature your sign up commitments are automatically placed on the digital calendar of your choice (Google Calendar, iCalendar, etc.). You'll have your schedule right at your fingertips, saving you the stress and confusion of coordinating between multiple platforms.
Along with adding events to your calendar, you can also select the option to send your sign up participants automatic reminders via email or text a few days before the event.
Zapier: Integrate with hundreds of popular apps
Zapier shares information between your web apps automatically, so you can focus on your most important work.
Our integration with Zapier passes information from SignUpGenius to hundreds of popular web apps such as MailChimp, Salesforce and Gmail.
Syncing SignUpGenius and Zapier can allow you to:
Share a sign up with your team on Slack
Sync your contacts between HubSpot and SignUpGenius
Export your sign up data to Excel
Zapier provides easy automation for busy people like you!
These helpful integrations will streamline your work and give you more tools to plan successful events. With more time to focus on your goals - the possibilities are endless!