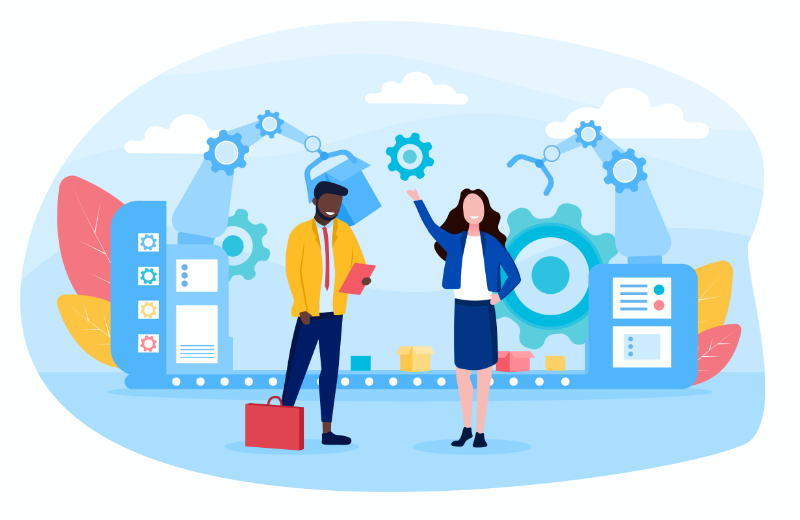 Sign ups save valuable time by streamlining the work of scheduling and recruiting. But managing the sign up can turn into another task. The last thing you need is to constantly manage and adjust a sign up when it's supposed to simplify your group organizing efforts. This is why we've developed some helpful features that automate your sign up management tasks.
Stop wasting time performing tasks that you can easily automate. This way you can get back to doing what you do best. Here are several of our favorite tools that help automate your sign up management tasks.
Allow People to Swap Slots
Sometimes things come up and people need to make changes to their schedule, and it can be a lot of work trying to manage the musical chairs of swapping sign up slots. That's why we created slot swapping as a feature for participants.
With slot swapping, you don't have to worry about manually changing people's shifts on the sign up. Instead, sign up participants can select the swapping option and send a request to other participants with whom they wish to potentially swap slots on the sign up.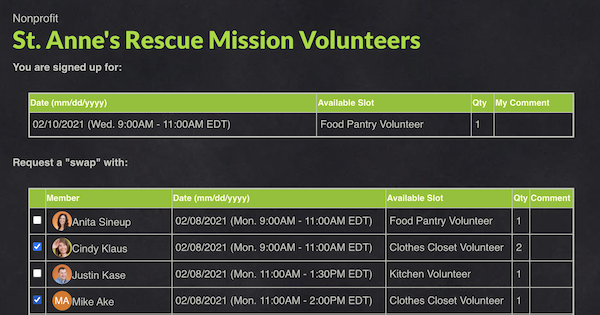 Hide Dates to Keep Your Sign Up Current
If you are constantly deleting old sign up dates and adding new ones, you are working too hard. Keeping a long list of dates on your sign up can result in endless scrolling for your participants. With our
Hide Dates feature
, you can easily set your sign up to hide dates once they are in the past.
Additionally, you can set your sign up to show a limited number of sign up slots into the future. This creates a window in which sign up dates display to show the most current opportunities. Need to access the information about past date slots that are now hidden on the sign up? No problem! Simply run a report on your sign up to view this information.

Create a Custom Confirmation Email
You never want to underestimate the power of your confirmation email. Instead of using a generic template, customize the confirmation email with additional instructions. You can even attach documents to provide forms or follow-up information to your participants.
By entering your custom text or attaching a document, you can provide those specific details without needing to manually do this each time someone signs up.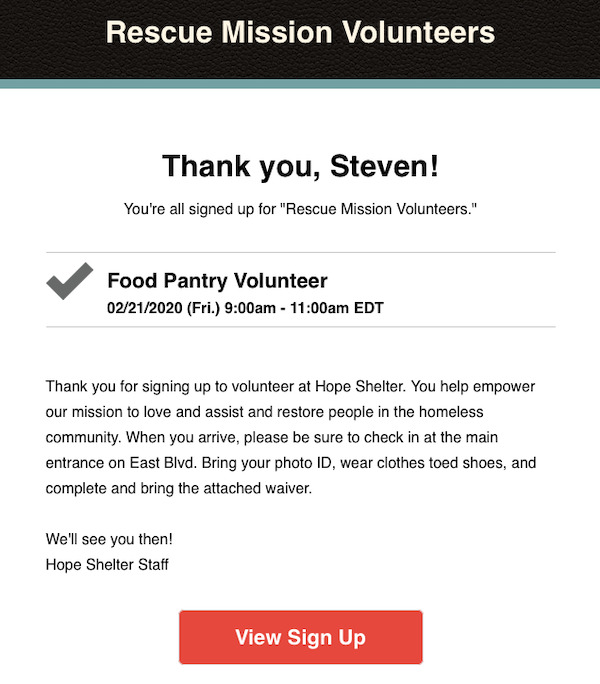 Create a Custom Question to Collect Information
Whether planning an event or recruiting volunteers, sometimes you need additional information from your group. Our custom question fields are a great way to automatically acquire information on the sign up, whether you need to know the t-shirt size for each volunteer or the dish that someone will deliver for a meal sign up.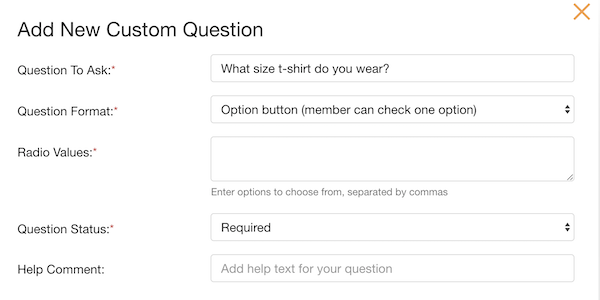 Lock Slots to Prevent Any Last-Minute Cancellations
No one likes last-minute changes — especially if you are the sign up creator. The last thing you need is someone deleting their sign up without notice or signing up ten minutes before an appointment when you have no time to prepare.
With our lock slots feature, you can prevent last-minute sign ups and deletions. Set the time parameters for when you need your slots to lock and the sign up will automatically lock slots. This prevents anyone from signing up or deleting their slot on short notice. This way you don't have to constantly monitor your sign up to ensure there aren't any last-minute changes.

Adding a few additional features to your sign up will save you lots of time. Instead of manually performing tasks, these features will do the work for you. It's just one less thing on your to-do list.